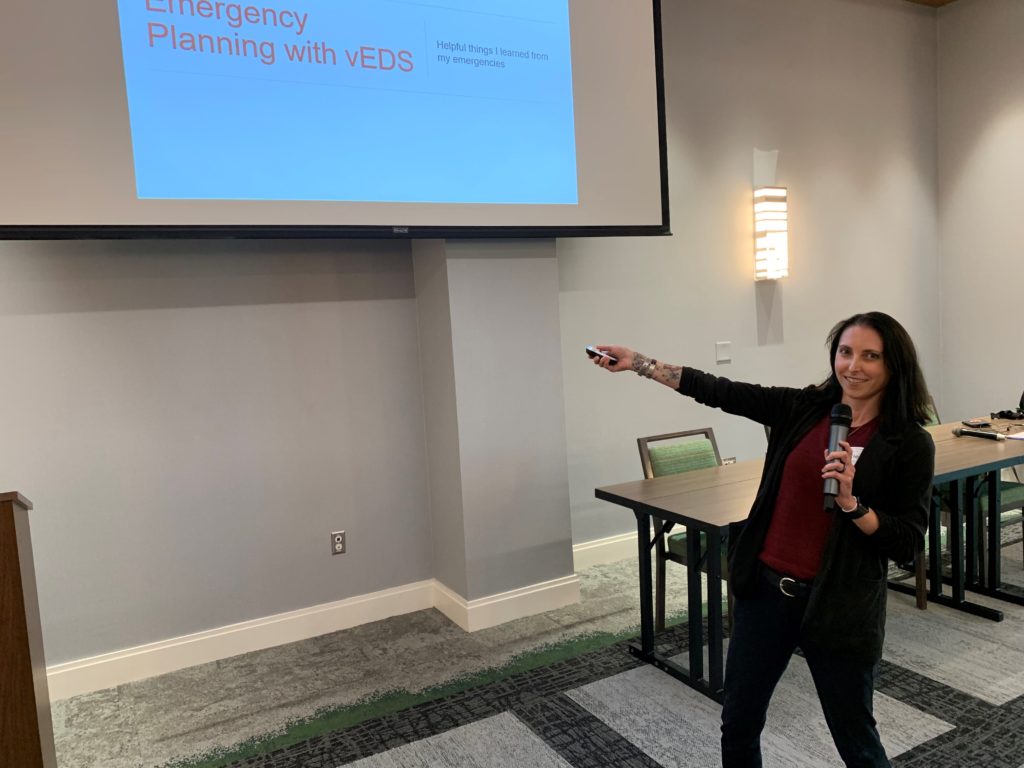 VEDS Emergency Card and Emergency Preparedness Kit
The VEDS Movement has prepared a Vascular Ehlers-Danlos Syndrome Emergency Preparedness Kit to help you develop your emergency plan. It contains a VEDS Emergency Card, a letter to the emergency department, a fact sheet for EMTs and paramedics, and a checklist to help you prepare other documents you may need to have on hand during an emergency. Download the Emergency Preparedness Kit and VEDS Emergency Card below.
Emergency Preparedness with Vascular Ehlers-Danlos Syndrome
Emergency preparedness with Vascular Ehlers-Danlos Syndrome is critical. Vascular Ehlers-Danlos Syndrome (VEDS) is considered the most serious form of Ehlers-Danlos syndrome due to the possibility of arterial or organ rupture, and it is important to be prepared for emergency situations. If you experience sudden chest or abdominal pain, go to a hospital emergency department immediately. Tests, such as MRA, MRI, and CT, can identify arterial or bowel complications, such as a rupture, that require surgery. Individuals should have emergency instructions from their personal physician to provide EMS workers in case of emergency. Families should also be proactive and alert local first responders to their diagnosis.
Wearable Medical IDs
The VEDS Movement encourages the use of wearable medical jewelry as a common way to help ensure members of the VEDS community get the kind of support that is needed in an emergency.
Thanks to a generous donation from the Daskal Family Foundation, we are offering free medical IDs to people with VEDS. Request a medical ID here.
Sticky J, a medical jewelry company, also offers a discount to members of the Marfan and related conditions community using code MARFANSJ20. In addition, Sticky J donates a portion of the proceeds to The Marfan Foundation. The VEDS Movement is a division of The Marfan Foundation.
Ask Your Doctor to Add an Alert to Your Electronic Medical Record
You can ask your doctor to add a highlighted patient coordination care note on your electronic medical record providing instructions for emergency situations. Let your doctor know we have instructions on how to do this in EPIC, a commonly used electronic medical record system, here. In other systems, it may be called an "FYI" alert.
Provide Information to Your Local First Responders
We now have an informational quick guide for EMTs and Paramedics. Consider meeting with your local first responders to give them this information, and keep it available in your emergency preparedness kit at home.
Setting up your care team for emergencies with VEDS
It is important to not only let your local emergency responders know about your condition, but also to set up a local "emergency care team" in case of an emergency medical situation.
In many cases, individuals with VEDS may see specialists who are outside of their local area. In an emergency, it is important to have local surgeons who know about your condition, and have a plan in place for where you will go in an emergency, and who will operate on you. Your local emergency team may include a vascular surgeon, general surgeon, and your primary care physician.
Plan Ahead
The list of possible serious issues for someone living with VEDS can feel endless. The anxiety that having this condition can cause may make it harder to think about these situations that may arise.
We at The VEDS Movement think it is important to think about these possibilities and cater your emergency plan around them. Knowing the types of emergencies that may arise and then creating plans around each of these emergencies may help ensure rapid response if the worst happens.
Think about how to get your medical information to the EMTs in different situations. Maybe it is a sign on the door of the house, or a visit to the local fire department to let them know who you are, where you live, what you have, and why it matters. You can also download our Emergency Preparedness Kit, which can help you prepare your emergency plan.
Whatever you choose to address in your emergency plan, be sure to communicate it with friends and family nearby so in an emergency situation where you cannot advocate for yourself, someone else can.