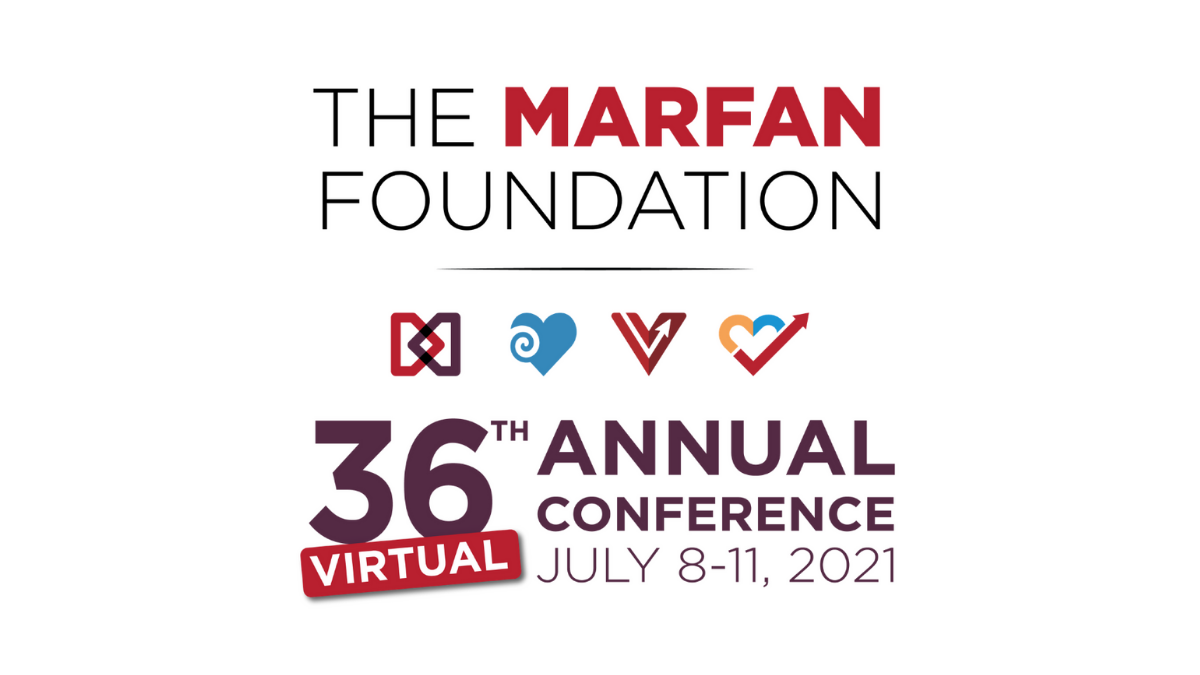 The Marfan Foundation is pleased to announce that registration is now open for our first-ever Virtual Annual Conference, July 8-11, 2021. Based on the input of our volunteer leaders, the emphasis of this year's conference is on more increased interaction and more opportunities to meet other people.
The four-day event offers innovative ways to reconnect with old friends and make new ones through condition discussions, social events, and open virtual spaces to hang-out and share. The medical sessions on Marfan, Loeys-Dietz, VEDS (Vascular Ehlers-Danlos Syndrome), and Stickler will, as always, feature leading experts in the field and will allow for robust question and answer exchanges. There is no cost to register.
"We are proud to offer a fresh twist on our long-standing Annual Conference this summer," said Cory A. Eaves, Chair of the Foundation's Board of Directors. "We have taken what we learned from conducting virtual programming for the past year and a half to respond to the changing needs of our community. This new format broadens our ability to provide an incredible combination of educational, supportive, and fun activities. We hope everyone takes this opportunity to connect with others with Marfan, LDS, VEDS, and other related genetic aortic and vascular conditions."
From medical topics to coping topics to support, our volunteer leaders have worked with the Foundation to bring you an innovative program this year. Several members of the Foundation's Professional Advisory Board, as well as doctors on the LDS Medical Advisory Board, are the presenters of medical topics.
While many sessions are applicable for all conditions, there are specific presentations and get-togethers for Marfan, Loeys-Dietz, VEDS, and Stickler syndrome. Each has a session for the newly diagnosed and for research updates, as well as a social mixer, an online party where people in the community can connect online. There are also medical sessions specific to VEDS and LDS.
Here is just a sample of the offerings that are tentatively scheduled:
Gastrointestinal Issues
Allergies and Nutritional Issues in LDS
Planned Aortic Surgery
Treatment of Non-Aortic Aneurysms
Strategies for Coping with Chronic Conditions
Preventing Caregiver Burnout
Thinking of Having Children
What is Causing Back Pain?
Growing Older with a Connective Tissue Condition
Relationships and Dating with Marfan, VEDS, LDS
How to Navigate the Hospital
Separate support groups for unaffected partners, moms, dads, and singles
New support groups for the BIPOC and LGBTQ+ communities
Meet-ups in French, German, Italian, and Spanish
Comedy show, pet party, knitting, and cooking/recipe exchange
Specially for children: magic party and art class
Many sessions will have links to related content that participants can watch or read to supplement the information from the session. In some cases, it is strongly recommended that participants watch previously recorded content prior to the session (pre-requisites). In other cases, the resources listed can be viewed or read at any time.
For our international community members, the conference offers sessions on aortic surgery in Italian, French, German, and Spanish, as well as virtual meet-ups in each of these languages. In addition, several sessions will be translated live into Spanish.
Sessions will be available from morning till evening Eastern time, with several support groups offered more than once so that they are accessible to people in different time zones. Some medical presentations will be recorded; support and social gatherings will not be recorded. The complete program will be available soon.
We recommend viewing the conference sessions on a desktop, laptop, or tablet, though they can also be viewed on a smartphone. Internet access is required.
If you have any questions about the conference or how to register, please email staff@marfan.org.