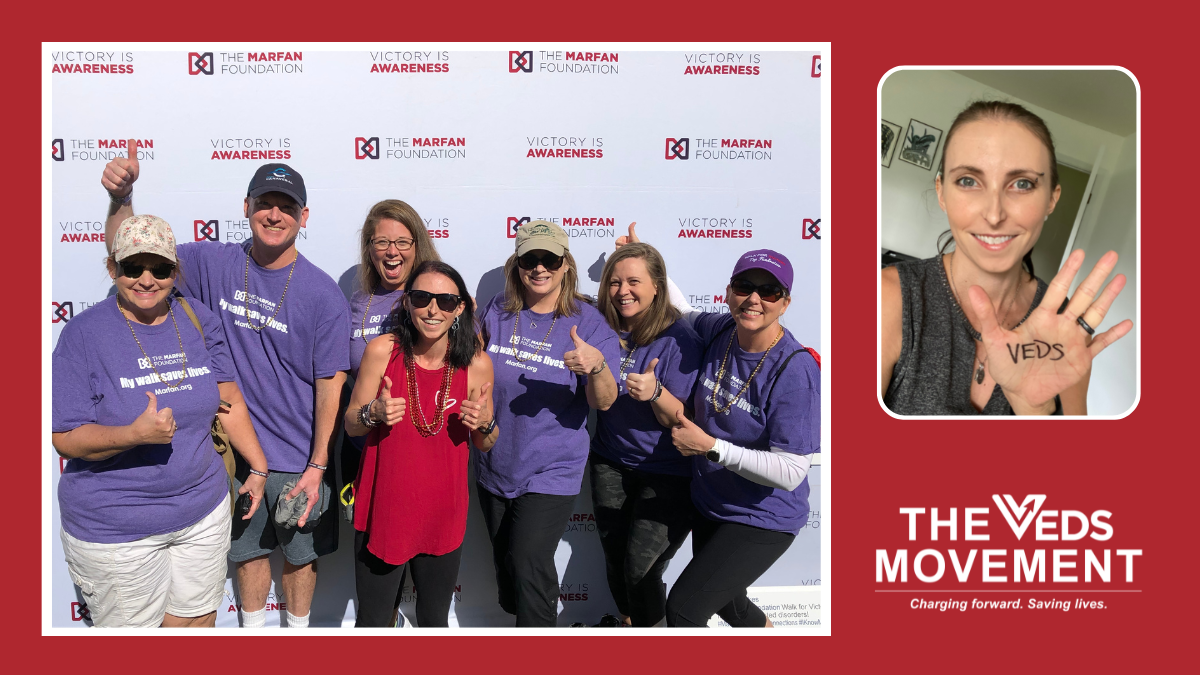 Greetings….
It is with mixed emotions we announce that Katie Wright will be leaving the Foundation next month to pursue other opportunities.
From its inception, The VEDS Movement has excelled under Katie's leadership, Jo's terrific support, a great community, and the commitment of the Foundation and our PAB to The VEDS Movement.  And, Katie's knowledge, commitment, enthusiasm, and creativity all added to our success. 
With Katie's announcement, we will begin to identify a successor to carry on the mission of The VEDS Movement and build upon the many successes of the past several years. Be assured the Foundation's commitment to The VEDS Movement has never been stronger and we have a great VEDS Steering Committee in place to help prioritize and implement VEDS priorities going forward.
We look forward to following Katie's journey, and we hope to see significant advances in care for a remarkable group of individuals and their families in the near future.
Onward!
With appreciation,
Michael L. Weamer                       Josephine Grima, PhD
President & CEO                           Chief Science Officer
Dear Community,
In 2019, I joined The Marfan Foundation in its goal to start a division for Vascular Ehlers-Danlos Syndrome (VEDS), now known as The VEDS Movement. Over the last three and half years, I have been so incredibly grateful to be leading the Movement and driving forward change and support for this community alongside my colleagues at the Foundation.
At the early stage of The VEDS Movement, we started multiple support groups, launched a website entirely devoted to VEDS, and published in an emergency medicine journal. Since then, we have been able to grow our impact significantly. We launched the VEDS Emergency Awareness Project, hosted a Patient Listening Session with the FDA, held numerous webinars on VEDS, hosted Scientific Meetings alongside the DEFY Foundation, and so much more. I am incredibly proud to have been a part of this work for our community. I want to give special thanks to Dr. Josephine Grima, Chief Science Officer at the Foundation, the past and current members of the Steering Committee, all of my colleagues at the Foundation, and my friends and family for your support as well in this work.
It is with great emotion that I announce my departure from the Foundation in March 2023. I am confident in the Foundation's commitment to the VEDS community, as well as the strength of The VEDS Movement's Steering Committee in leading us through this transition, and I am looking forward to witnessing the future impact of The VEDS Movement.
To lead The VEDS Movement was such an honor, and I know that the Movement will continue to charge on to save lives and improve the quality of life for people with VEDS long into the future.
With all the love,
Katie Wright
---
If you have questions or comments about this announcement, please contact Michael Weamer, CEO of The Marfan Foundation, or Dr. Josephine Grima, Chief Science Officer of The Marfan Foundation.