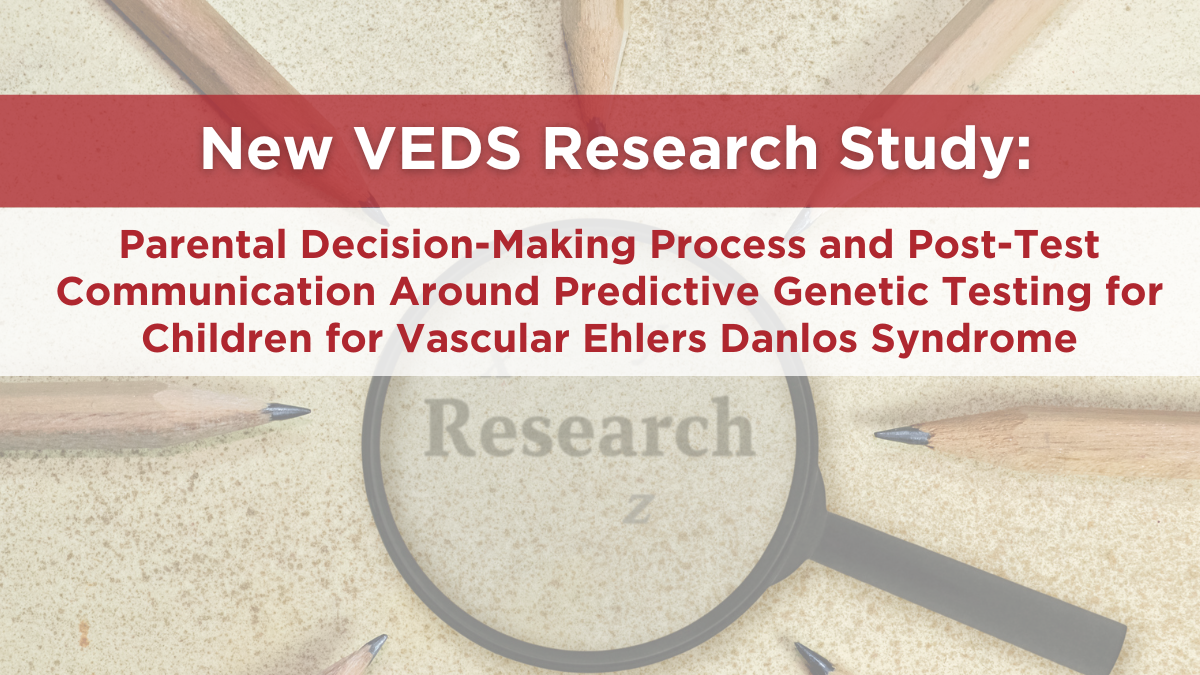 Researchers at the MGH Institute of Health Professions are asking you to consider participating in the online Mass General Brigham Institutional Review Board (IRB) approved research study: "Parental Decision-Making Process and Post-Test Communication Around Predictive Genetic Testing for Children for Vascular Ehlers Danlos Syndrome"
Predictive genetic testing is genetic testing done for an individual who does not currently have symptoms of a given condition, in order to predict if they will eventually develop symptoms of that condition. This is often done when a parent has been diagnosed with a genetic condition and the child does not yet have symptoms but has a chance of eventually being affected. This is different from diagnostic genetic testing, which is done when an individual does have symptoms of a condition to confirm a diagnosis.
Members of the Vascular Ehlers Danlos Syndrome community are invited to participate in this research study that seeks to explore the experiences of families that have considered predictive genetic testing (PGT) for Vascular Ehlers Danlos Syndrome (VEDS) for their children. We hope that this study will improve health care providers' understanding of the parental considerations involved in decision-making surrounding PGT, the experiences of those tested for VEDS as children, and the family communication surrounding genetic testing. With this expanded understanding, we hope to be better able to support parents making this decision and families in this position.
Participation in this study involves completing a survey and an interview. The interview will be conducted virtually using Microsoft Teams video conferencing.
Individuals are eligible to participate if they are 18 years or older, speak English, and are either one or both of the following:
A parent with VEDS or their unaffected partner who has considered predictive genetic testing for VEDS for their child
An individual who underwent predictive genetic testing for VEDS as a child
If you would like to participate, please follow the link below to learn more about the research study and complete the survey. After completing the survey, you may be contacted by the study coordinator to schedule a time for the research interview. A $20 electronic gift card will be provided to participants who complete both the survey and interview and those who complete just the survey will be eligible to enter a raffle for 1 of 5 $20 gift cards.
The study can be found at the following link: https://redcap.link/VEDSResearch
If the link above does not work for you or for other questions about the study, please contact us at EECKER@MGHIHP.EDU.
Sincerely,

Emily Ecker, BA
Genetic Counseling Student,
Class of 2023
MGH Institute of Health Professions
Allison Cirino (PI)
MGH Institute of Health Professions